Please see below for CFP
--
Gayle Schechter | she/her/hers
Program Associate
Council on Library and Information Resources / The Digital Library Federation
Dear Secretariat Team,
The call for proposals and papers for the ICA Abu Dhabi 2020 Congress is open and should interest the DLF - Digital Library Federation
members. Could you please disseminate the below text through your website, your networks and Social Medias ?
Thank you for your help.
Call for Proposals and Papers
ICA Abu Dhabi 2020 Congress: 16 – 20 November 2020
EMPOWERING KNOWLEDGE SOCIETIES
The archival, records and data landscape in the 21st century is changing public expectations, how we do our work, what constitutes credible evidence and how we protect our holdings. It is time for our profession to discuss, reflect and challenge existing practices to explore and expand the critical role played by archives and information professionals in the 21st century knowledge societies.
The ICA Abu Dhabi 2020 Congress, Empowering Knowledge Societies, will be an opportunity for the profession from all over the world to share innovative ideas and research and for colleagues from allied and other professions to join us at this important event. We encourage the community to submit its proposals, but we would also encourage you to reach out to librarians, museum professionals, data managers, journalists and people working in civil society to be part of this conversation. The 21st century information challenges do not simply belong to archives and records professionals, they belong to everyone, so let's share ideas, build networks to empower our knowledge societies!
The ICA Abu Dhabi 2020 Congress Programme Committee hereby invites proposals for different types of sessions (read below) related to the following three sub-themes. Possible topics include, but are not limited to:
Artificial Intelligence, Digital Preservation and Emerging Technologies
• Artificial intelligence
• Open source technology and software for archives and recordkeeping
• Digital curation
• Big data, data preservation, and the public interest
Sustainable Knowledge
• Sustainability of archival standards and open source tools
• Automated appraisal
• Technology and technological change management
• Control and management vs Access: building tools that serve everyone
• Software sustainability
• Digital preservation
• Digital humanities and other frontiers
• SDGs and developmental initiatives
• Managing metadata
Trust and Evidence
• Blockchain
• Crowdsourcing: user-generated content and metadata
• Automation and ethics
• User Experts vs the Profession
• Cybersecurity and information governance
• Internet governance
• The Right to be Forgotten
Papers may be submitted in French, English, Arabic or Spanish.
We request that you complete your application by no later than 1st of February 2020 (23:59:59 CET). Presenters will be notified of acceptance by the end of March 2020. The Programme Committee will only consider submissions received via OpenConf. Instructions on how to submit are contained in the submission platform.
Cordialement / Best regards
Christine Trembleau
Marketing and Communications Manager
ICA International Council on Archives
60, rue des Francs Bourgeois
75003 PARIS
FRANCE
Direct : +33 (0)1 81 70 55 66
Skype : christine.trembleau.ica

ICA International Council on Archives

@ICArchiv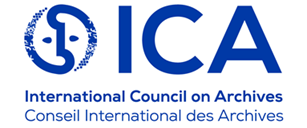 [log in to unmask]">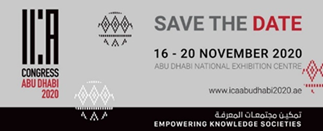 [log in to unmask]">